Hi fellow rifters,
Here I have produced a simulation for a proposed luxury hotel in Shanghai. This is to be a one of a kind development with a number of complex spaces that provide an experiential environment for guests. We are currently proposing the creation of a full replica simulation in VR of the complex and this standard room is an initial testbed. Again the primary challenge was keeping the sim well above 60fps, especially with a number of real-time mirrors, and we managed well over 150fps on a gtx580 without vsynch
(obviously please use Vsynch as per usual when running it!)
There are three options for the room; 'retro chic', 'dark charm' and 'classic contemporary' - see if you can tell which is which! To swap between room options use the arrow keys, but I suggest waiting for the first cam path to complete before doing this.
Its a simple simulation again with a slow cam path, after which you are free to roam (wasd).
TIP- try leaving the room through the door and look in from outside!!
A number of animated elements are present which can be activated with the following controls:
1 - open partition 2- close it
3 - open jacuzzi - 4 - close it
5 - unfold tv - 6 close it
7 - open bathroom door - 8 - close it
9 - open shower/toilet door 9 - close them
Again only a windows build this time - sorry about that!
Comments and feedback always appreciated!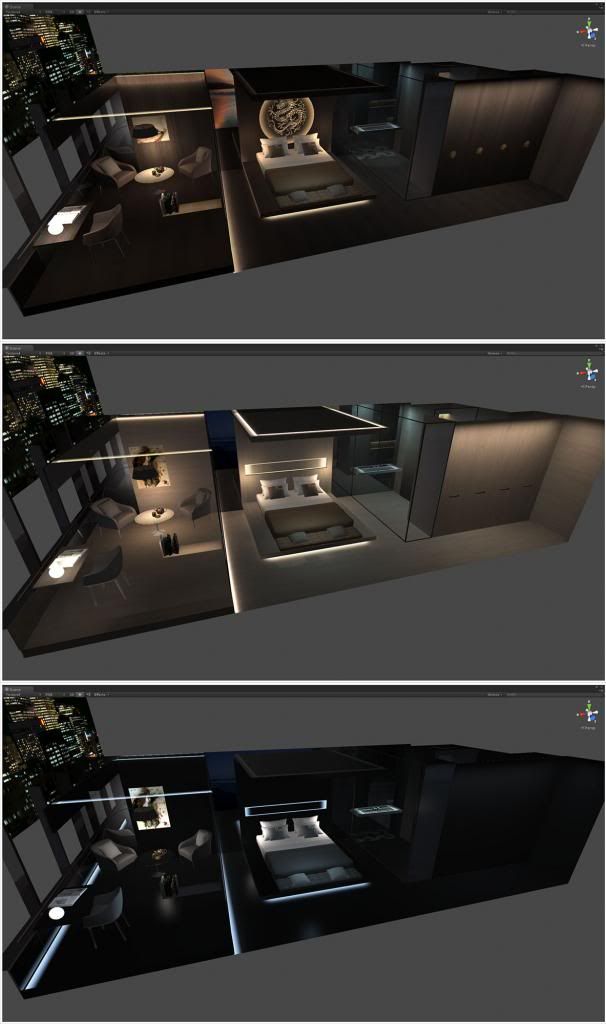 WINDOZE -
https://drive.google.com/file/d/0B2qYXe_nrGqYcHRfTkZwcHpxX1E/edit?usp=sharing
Thanks for looking!!