Virtual Desktop is a little utility that improves your VR experience on the desktop. By efficiently replicating your desktop into the Rift, the application allows you to see your desktop on a giant virtual screen. You can browse the web, watch movies or even play non-VR games. It also allows you to launch VR games and resume from them without having to take your headset off.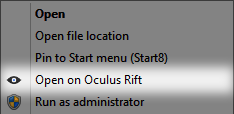 After you install Virtual Desktop, a context menu item will allow you to open any game on the rift (this is useful with Unity games that require special parameters to properly run on the rift). By using this action, the game will be registered in your list of games (see below).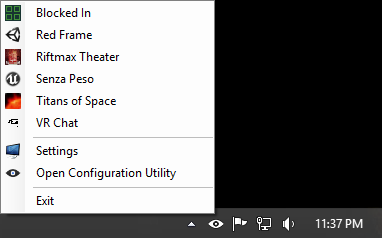 A tray icon will appear in your taskbar. From there you can manage your list of games, change your settings or launch the Oculus Configuration Utility to set your height, IPD, etc.
You can also drag & drop executables or shortcuts to add more games to your list.
Requirements
- Windows 7 (requires
Service Pack 1
and latest
Platform Update
)
- Or Windows 8 &10 (provides much better performance)
- Oculus 0.5.x Runtime
- Oculus Rift setup in Extended Mode
Latest Changes
- Support for custom environments
- Added optional Environment Editor
- Added support for custom aspect ratio in environments with fixed screens
- Support for stereo cubemaps environments
- Support for alpha blending in model environments
Known Issues
- Video player is still in early development: It won't play a lot of formats on Windows 7 at the moment but should be able to play most of them on Windows 8. It's also failing after opening/closing multiple files.
- Mirror to monitor is experimental and might not work with all games. If you encounter issues with a specific game, you can prevent mirroring by checking "do not mirror to monitor" for that specific game.
Follow the link below for download links
Download
Virtual Desktop is free with DK1 and DK2 but if you would like to donate and help with the development effort, use the button below